The role of atmospheric precipitation in the under-ice blooming of endemic dinoflagellate Gymnodinium baicalense var. minor Antipova in Lake Baikal
Obolkin V.A.

1

Volkova E.A.

1

Ohira S.I.

2

Toda K.

2

Netsvetaeva O.G.

1

Chebunina N.S.

1

Nosova V.V.

1

Bondarenko N.A.

1

1 Limnological Institute, Siberian Branch of the Russian Academy of Sciences, Ulan-Batorskaya Str., 3, Irkutsk, 664033, Russia
2 Department of Chemistry, Kumamoto University, 2-39-1 Kurokami, Kumamoto 860-8555, Japan
Keywords:
dinoflagellates, phytoplankton, the under-ice blooming, Lake Baikal, atmospheric precipitation
Abstract
The mass development of the phototrophic under-ice community is an interesting phenomenon known for Arctic Ocean as well as for some rivers and freshwater lakes, including Lake Baikal. Species composition and productive characteristics of the under-ice phytoplankton in Lake Baikal are well studied. During the under-ice blooming, an endemic dinoflagellate Gymnodinium baicalense var. minor Antipova can create more than half of the annual primary phytoplankton production. However, there are still many questions to be answered regarding the factors limiting abundance and proliferation of the under-ice phytoplankton as well as mechanisms facilitating it to persist in Lake Baikal under conditions of the low salinity and low temperature. In present work, we studied dynamics of the development of dinoflagellates and microalgae under the ice cover in Listvennichny Bay of Lake Baikal during the period of February-April 2018. Simultaneously, dynamics of the chemical composition and concentration of atmospheric precipitation was analysed. We observed the under-ice community with domination of endemic dinoflagellate Gymnodinium baicalense var. minor in April. The biomass of this species considerably varied at different days from 0.04 to 10.0 x 103 mg/m3. The results of this study indicated that nutrient supply from precipitation could be an important source of nutrition for organisms developing under the ice, in particular Gymnodinium baicalense var. minor, and could be one of the factors causing the fluctuations in its biomass. We suggested that abrupt significant increases in abundance of G. baicalense var. minor could be a result of their active migration to the area with elevated concentration of nitrogen received from atmospheric precipitation. Such ability may help this species to prosper under the under-ice condition of Lake Baikal.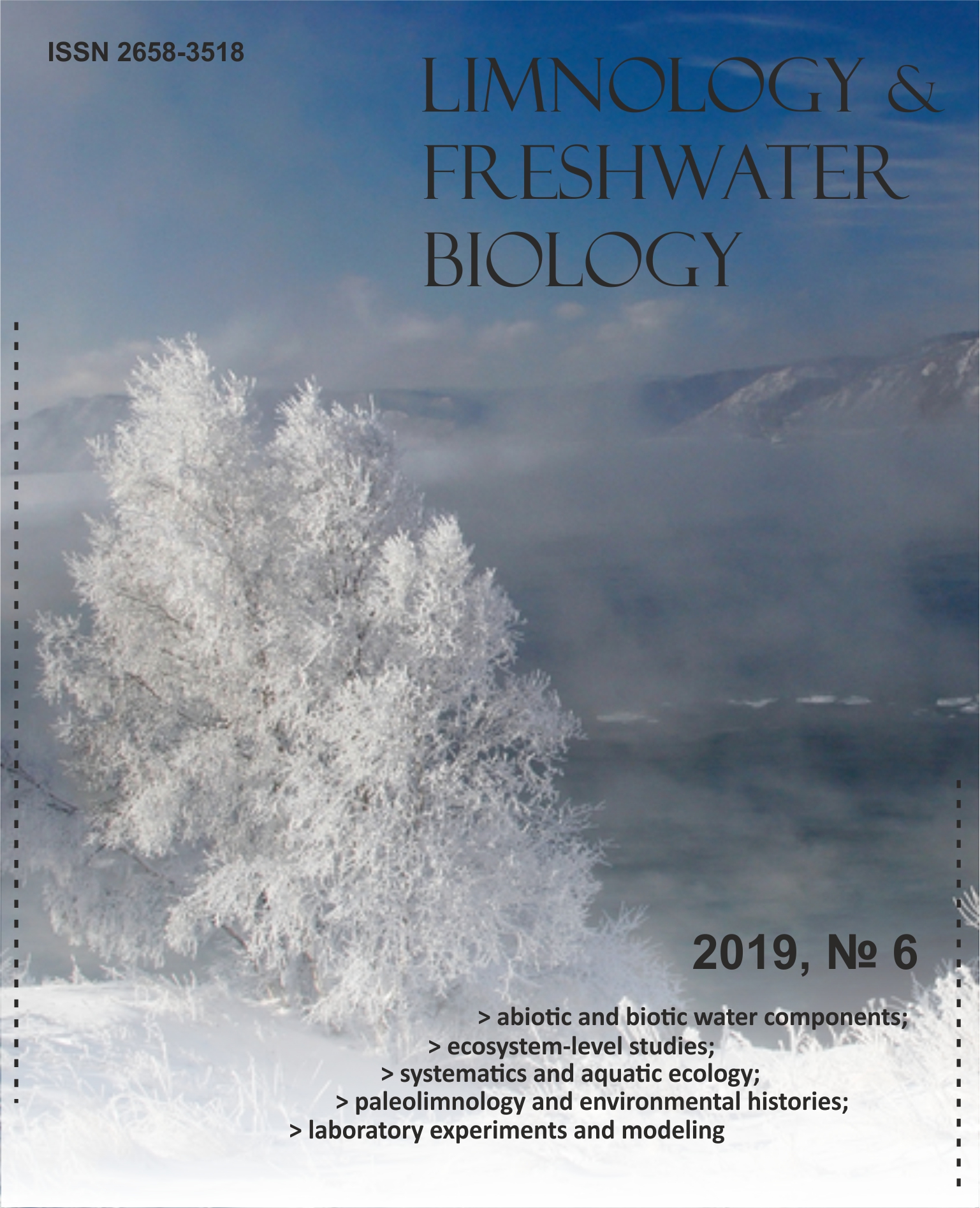 This work is licensed under a Creative Commons Attribution-NonCommercial 4.0 International License.